How do I change the Live Data Graph to be a complete hour?
I need to see that degree of granularity.
5 Replies
I am running 7.3.2 and don't find the tab you reference.
Created on Mar 16, 2010 7:25:45 PM by
Stephen Gorham (0) ●1

The "PRTG Server Administrator" can be started from the "PRTG Network Monitor" program group in the Start Menu and allows configuring basic server settings.
It is divided into eight tabs, one of them is labeled "Memory Usage" in the english version.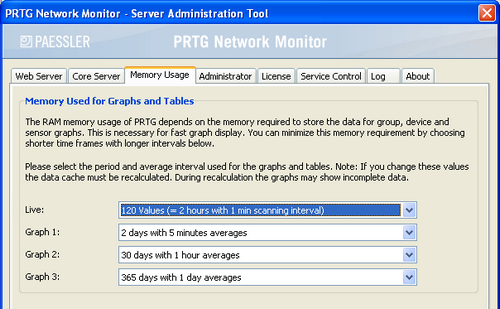 See the manual: PRTG Server Administrator (Tab 'Memory Usage')
Created on Mar 17, 2010 9:36:13 AM by
Dirk Paessler [Founder Paessler AG] (11,015) ●3 ●5

Last change on Mar 17, 2010 11:40:49 AM by
Daniel Zobel [Product Manager]

In current versions (2016) this functionality has been moved to the normal web-interface under: Setup -> Administration -> User Interface -> Bottom of page @ "Graph Settings"
Created on May 17, 2016 12:35:40 PM by
stevenrodenburg1 (20) ●1

Steven, while your API call suggestion should indeed work, this may change in the future as it is not an officially documented API call. Your call should be used as a POST request though, which it is internally within our forms in the web interface.
Created on May 18, 2016 8:20:28 AM by
Torsten Lindner [Paessler Support]

Please log in or register to enter your reply.