How can I upload log files to Paessler support team?
The Paessler support team asked me to send my log files. What's the easiest way to do this?
1 Reply
Important notice: As of PRTG Network Monitor version 13.3.6, PRTG provides an even easier way to send log files to Paessler's support team. For details, please see the article What is the best way to contact Paessler Support?
---
This article applies to PRTG Network Monitor 8 or later
Send Logs to Paessler with PRTG
In PRTG, there is an option to collect, compress and upload your log files automatically.
Notes:
Please only send log files when you're asked to do so by the support team.
This option is not available in the Freeware Edition of PRTG.
Open Dialog
On the computer running the PRTG core server (in a cluster, choose the master node server), open the PRTG Server Administrator program from the Windows Start Menu. Click on the Log tab and then click on the Send Logs to Paessler... button.
The following dialog window appears: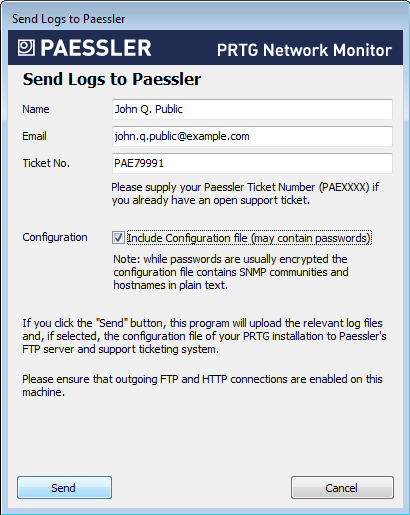 Settings
Name
Email
Please enter your valid email address.
Ticket No.
This field is optional, but please provide a ticket number if you have one.
If you have already opened a ticket at Paessler support, please provide the ticket number you received. Your files will then be associated with your ticket automatically.
Please enter the ticket number starting with PAE followed by several digits.
If you do not have a ticket number, please leave the field empty. Note: You should usually contact the support team before sending any files.
Configuration
Define if your configuration file will be included in the data. Passwords are usually encrypted, but there may be some passwords stored as plain text, such as an SNMP public string, etc.
Click on the Send button to start data upload. Please make sure FTP and HTTP connections are allowed on this machine.
Note: Data is collected and sent as a ZIP file. You can review this data in the \Support Data sub-folder of your data folder (see How and where does PRTG store its data?). If uploading data fails due to your firewall policies, please email this file.
Created on Aug 20, 2010 2:09:10 PM by
Daniel Zobel [Product Manager]

Last change on Sep 5, 2013 3:42:51 PM by
Gerald Schoch [Paessler Support]

Please log in or register to enter your reply.