I use the IMAP sensor to check emails from my backup solution. For this purpose I defined a message date check in the sensor settings: if the monitored inbox has not received emails about the backup status within the last few hours, the sensor should show an error.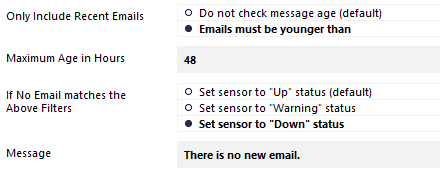 However, the sensor is in down status even if there are new emails within the time span set as error threshold (for example, within the last 48 hours).
Why does the IMAP sensor ignore new emails? What can I check to get correct IMAP sensor states?