How can I test the functionality of my SNMP device?
I have problems with receiving SNMP data. How can I test my SNMP device on protocol level ?
1 Reply
This article applies to PRTG Network Monitor 16 or later
Debug SNMP Problems with the Paessler SNMP Tester
With the SNMP Tester you can run simple SNMP requests against a device in your network. This test program is based on the SNMP technologies built into PRTG Network Monitor.
Benefits
The Paessler SNMP Tester aims to
enable SNMP debugging in order to find communication and/or data problems in SNMP monitoring configurations.
perform SNMP walks. You can use the Walk option of the SNMP Tester to check OIDs, and to discover OIDs that you can use to access custom monitoring objects. See this article for a step-by-step instruction on How to Perform an SNMP Walk with the Paessler SNMP Tester.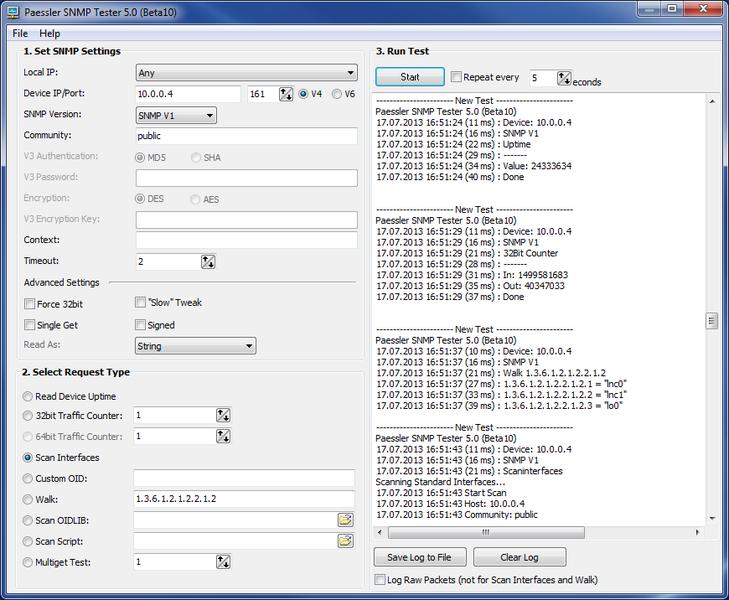 Findings
If SNMP connection works with the Paessler SNMP Tester it will also work with PRTG.
If you need analysis, check the SNMP Tester logfile in the Paessler SNMP Tester data folder. You will find the exact protocol of every step of an executed SNMP request in that logfile.
Download & User Manual
Please see the SNMP Tester page for more information, the manual, and a download link.
---
More
Created on Feb 10, 2010 10:54:18 AM by
Daniel Zobel [Product Manager]

Last change on Nov 7, 2017 2:36:10 PM by
Martina Wittmann [Paessler Support]

Please log in or register to enter your reply.